Menstruation is a complex process. The female menstruation cycle is controlled by several hormones.
Those are,

GnRH (Gonadotrophin releasing hormone)
LH (Luteinizing hormone)
FSH ( Follicular stimulating hormone)
Oestrogen
Progesterone
Inhibin
Activin
The menstrual cycle occurs as a response to

the changes happening in the ovaries &
the fluctuation of ovarian hormones level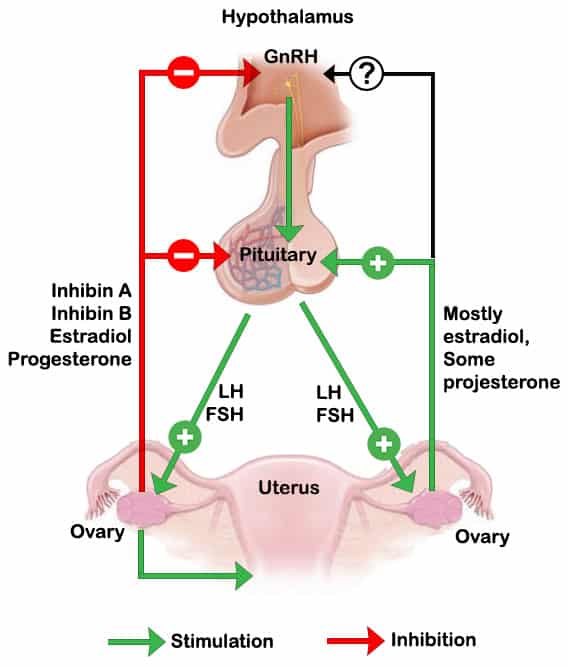 The influence of These hormones and changes of the ovaries regulate by a Hypothalamus pituitary ovarian axis.
The pituitary gland and hypothalamus are located in the brain.
The Ovaries are located in the abdomen.
The pituitary gland, hypothalamus, and ovaries are involved in the production of the above hormones.

Hypothalamus – produce GnRH
Pituitary gland- produce FSH, LH
Ovaries- produce estrogen, progesterone, Inhibin, and Activin.
The action of the hormones for the menstruation cycle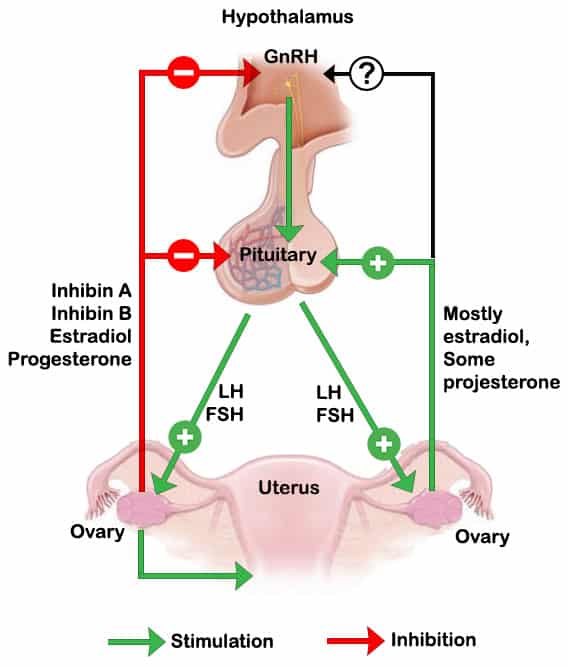 GnRH stimulates the pituitary gland. Due to that stimulation pituitary gland produces FSH and LH.
FSH stimulates ovaries, and ovaries produce progesterone.
LH stimulates ovaries, and as a response to that, ovaries produce estrogen and progesterone.
The Low level of estrogen has an inhibitory effect on LH production. That means decreased estrogen levels stimulate the pituitary gland and reduce the production of the LH.
Likewise, a high level of estrogen has a positive effect on LH. That means an increase of the estrogen stimulates the pituitary gland and increases the production of the LH.
The low level of progesterone has a positive effect on the LH and FSH. That means the decrease of the progesterone stimulates the pituitary gland and increases the production of the LH and FSH.
Likewise, a high level of progesterone level has a negative effect on the LH and FSH. That means when body progesterone level increases, it stimulates the pituitary gland and decreases the production of FSH and LH from the pituitary gland.
Inhibin produces by ovaries acts on the pituitary and causes to decreases FSH production.
Activin produce by ovaries act on pituitary and increase FSH production.
High estrogen level stimulates the increased production of GnRH at the hypothalamus.
High progesterone level stimulates the GnRH production, and low progesterone levels decrease GnRH production.
Uterine endometrium prepares for fertilized oocyte implantation. The endometrium has two layers. If oocyte implantation did not happen, the progesterone level decreases. It causes the outer layer of the endometrium tissue fluids to decrease, vasoconstriction of spiral arterioles occurs. (vasoconstriction reduces the size of the blood vessel lumen) due to vasoconstriction, the poor blood supply to the endometrial outer layer occurs. So ischemia onset and dead tissue breakdown with blood. It is menstruation.